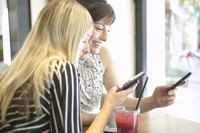 Marketing to women isn't an exact science and doesn't require an approach too different from the one you'd use to market to men. In fact, treating women as an entirely separate group can be insulting, especially if you imply that they're not as discriminating or savvy as male consumers. Your marketing strategies should address the complexities of women's lives, in which they play several roles and likely don't conform to traditional ideas of women's behavior and interests.
Don't Play to Stereotypes
A woman doesn't necessarily want something that's pink or covered in flowers. Similarly, many women aren't seeking scaled-down or easy-to-use versions of a company's product. When it comes to technological gadgets, for example, a woman might need a sophisticated device with ample features. She might be drawn to an ad that promotes how much she can do with the device, and might be turned off by a marketing campaign that depicts the device as simplistic.
Recognize Diversity
No one marketing strategy will speak to all women. It's crucial that you acknowledge the many groups within the female population. When marketing to younger women, such as those in the Millennial generation, you might focus on how your product contributes to the greater good. For example, link your product to an important social issue. You might focus on how it's environmentally friendly or fair trade. Also, not all women have or plan to have spouses and children, so don't focus solely on a woman's role as a wife or mother.
Connect With Them
Women are inundated with ads everywhere from television to social networking sites. Your marketing strategy must stand out and connect with their needs. Make an emotional connection with your target audience. They need to be able to see themselves in your ads and relate to the image you portray. Show women in a variety of situations, from taking the kids to school to leading a staff meeting at work. Help them understand how your product or service is relevant and how it will make their lives better.
Provide Value
Use your marketing strategies to enhance women's lives and decision-making processes. For example, offer a weekly email newsletter filled with practical tips, or use your social media accounts to offer free advice. You can also use social media to initiate conversations with customers to let them know you value their feedback. Ask your social media followers what their most pressing needs are or what you could add to your product or service to make it more relevant to their lives.