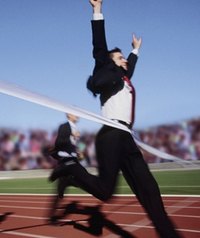 Sales contests have been motivating salespeople for years. Used properly, a fun and interested contest can boost morale and performance in lackluster employees. The effectiveness of your sales contest depends on what motivates your employees. It's always a good idea to ask for suggestions for prizes. Your employees might not be motivated by money but would rather have some flexible work time or other nonmonetary rewards.
Things You'll Need
Sales objective
Prizes for different levels
Set an objective for the contest. Do you want to move clearance items? Sell new products? Increase customers? Make sure that your goals are attainable.
Evaluate your goals using the SMART system. Are they specific? Measurable? Attainable? Realistic? Timely?
Design levels of achievement. It's more fun for the employees if there is suspense involved and anyone can win. By setting various levels, you ensure that more people will be motivated to participate. For example, setting goals for most new customers gained and first person to reach a monetary sales level gives more opportunities to win.
Designate prizes of different types. Not everyone is motivated by the same thing. Using different prizes for different achievements will give different people goals to strive for. Besides money, prizes can be merchandise (an espresso machine or gift certificates), travel (a weekend someplace close or a trip far away) or special privileges (flex time, extra vacation).
Make everyone feel like a winner. Don't just have one or two big prizes that will go to the top people. This leaves the rest of the staff resentful and left out. Have smaller prizes for participants or a group prize like a special lunch to reward everyone who worked to achieve the goals.
Track your progress. Have a tracking system where everyone can view the progress toward the goals. Make a large chart and hang it in the employee break room, for example.
Set a time limit. Six weeks is a good length for a sales contest, but you can choose any length of time as long as there is a specific start date and an end date that isn't too far away.
Keep energy and commitment high by promoting your contest whenever is reasonable, such as at employee meetings, morning coffees and group gatherings.