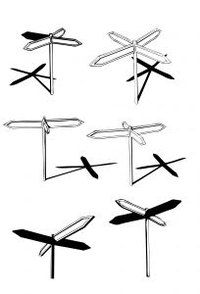 The name of your sign business is the start of its brand, which means that this is the first step in marketing your products. The name you choose should be permanent, and should reflect the culture, nature and intent of your business. This doesn't mean you need to spend two years mulling over the possibilities, but definitely give the name of your sign business some thought.
Consider the name(s) of the owner(s). A sign business name doesn't have to be quirky or witty, but it should convey the nature of the business. For example, Maria's Signs tells potential customers that Maria owns the store, and that she provides signs in the shop. This is simple, effective and easy to remember.
Decide whether you're going to focus on a particular target market. For example, if you were going to make health and safety signs for construction companies, you could name your business with that audience in mind.
Research domain names. A sign business often sells more over the Internet than in a store, so your company should have a website to advertise its products. Finding a top-quality .com or .net domain name might be a priority, so check on that before you start making business cards.
Research other companies in your city. If no other exists, you might name your sign business after your particular town, or even the street on which your store is located. This is a great idea if you're going to cater to local clients.
Ask friends and family members for ideas. You might just need another mind to help you name your sign business, and you'll be surprised by the creativity that is inspired by the task.
Make sure that no other sign business in your state has the same name. The clerk at your local courthouse can run a search for you, then help you register the D.B.A. (doing business as) in your name.