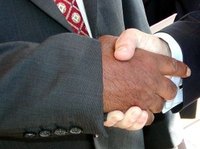 A partnership agreement defines the terms of a business relationship, and should be prepared before the business is even started. This protects all partners in the event of a dispute, and creates an even playing field for all work that must be done.
Decide on a name for your business, and determine how many partners will have shares in the future of that business. You should also discuss how you will handle the situation if you decide to admit a new partner, and all of this should be spelled out in the agreement.
Determine the purpose for creating your business. A partnership agreement is related to the nature of your endeavor, and you must be able to assign roles to each of the partners. For example, for a web design firm, you might describe the purpose as "a service wherein all partners are responsible for designing and implementing websites for customers."
Agree on a place of business. You might use the home of one of the partners, or you might jointly lease an office space. Make sure the address and phone number are included in the partnership agreement, as well as the owner(s) of that property.
Write down the capital and non-capital contributions of each partner. For example, is each partner responsible for kicking in $1,000, or will Adam provide his computer equipment for the exclusive use of the company? And does a larger initial contribution mean a larger stake in future profits?
Write down the responsibilities of each of the partners in your partnership agreement. For example, one individual might be responsible for accounting and advertising, while another could be in charge of providing the service and organizing the schedule.
Record the rights of each of the partners. Can one partner withdraw money from the business bank account without the others' presence? Can each individual partners write checks on the account? How many partners must agree during the hiring process? All of these things are crucial to the running of everyday activities.
Decide how you will handle business-related expenses. For example, if Joe has to run out and buy 3 reams of copy paper, is the price included in his cash contributions, or will he be reimbursed from the company bank account?
Determine what happens in the event of the withdrawal, removal or death of a partner in the partnership agreement. A withdrawal occurs when a partner decides to leave the company for something else, while a removal means that the other partners have decided that one person isn't upholding his commitment. And if one partner dies, what happens to his share in the company? Does it transfer to his relatives or is it absorbed by the other partners?
Record the procedure for legal disputes. For example, you might want to require that all disagreements be resolved through mediation, or that legal disputes must be handled in a particular jurisdiction.