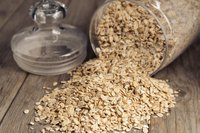 Whether you're on a low-carb diet to lose weight or to treat a medical condition, it's essential to choose the carbohydrates you do eat very carefully. Whole-grain carbohydrates offer a myriad of health benefits. Fiber-rich cereals, pasta and bread can help lower your cholesterol and triglycerides, and decrease your risk of heart attack, stroke, diabetes and some types of cancer. Additionally, whole-grains promote bowel health and regularity. Talk to your doctor about a healthy diet on a low-carb plan.
Carry a list of low-GI -- or glycemic index -- foods. Glycemic index is a measure of the extent to which a carbohydrate affects your blood sugar. Choose whole-grains with a low GI to keep your energy levels stable. Carbohydrates with a score of 55 or lower include 100 percent stone-ground whole-wheat and pumpernickel bread, oatmeal, oat bran, muesli, whole-grain pasta, barley and bulgur. Moderate GI whole-grains include quick oats, brown and wild rice, couscous, quick oats and whole-wheat bread. Take the list to the store to simplify your shopping trip.
Read nutrition facts labels carefully, noting the carbohydrate-to-fiber ratio. The ratio for an unprocessed wheat grain is 10 to 1, according to Patrick Skerrett of Harvard Health, so look for the same numbers on whole-grain products. For instance, a slice of bread with 25 grams of carbohydrates should have at least 2.5 grams of fiber. More fiber is even better.
Make wise carb choices, because a low-carb diet doesn't have much room for grains of any sort. In addition to a healthy carbohydrate-to-fiber ratio, look for products low in sodium, sugar and fat, recommends the Harvard School of Public Health. For instance, choose steel cuts oats instead flavored, instant oatmeal.