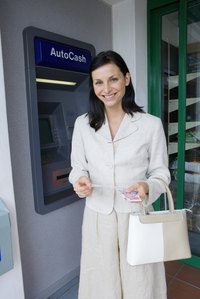 How to Take tax Deductions for Bank Charges. Taking tax deductions for your bank charges can save your small business from paying too much to the IRS. Many business owners don't realize how many bank charges you can deduct and how much money that can save you at tax time.
Open a separate business account in order to deduct 100 percent of your business bank, checking and credit card costs and fees. This includes check printing costs, service fees and penalties for that account.
Keep track throughout the year of any business purchases you made using a personal bank account or credit card. This makes it easier to deduct the business-related portion of those bank charges, credit card fees and interest.
Pro-rate fees and interest charged on the personal credit cards or bank accounts that you also use for business expenses. When you use a card for personal as well as business expenses, you can only claim tax deductions for the business-related portion of fees, interest or other bank card charges.
List as deductible any bounced checks from customers. You can deduct the entire amount of the check and any fees or penalties related to the check. However, if you write a check that bounces, you can't deduct the amount of the check, but you can deduct bank charges and any penalties the bank charges you for your own bounced business checks.
Take deductions for any losses your business suffers due to bankruptcy of a customer or supplier.
Deduct all the costs and expenses in case of your own business bankruptcy, including costs of filing and additional expenses such as attorney fees.