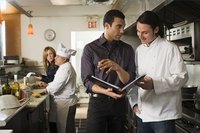 How to Motivate Restaurant Employees. Your restaurant's reputation hinges on your employees--their preparation behind the scenes, their demeanor in the dining room and how they handle potential customers. Motivate them to be on point with their service and execution at all times with a few simple strategies.
Allow the employees to help you devise a system to cut down on ticket times and improve the atmosphere in the dining room, for example. They may be more receptive to new processes if you implement their suggestions.
Praise the waiters who have "upsold" the most, chefs who added a delectable twist to a menu item or the line cooks that have been particularly helpful. Sometimes public recognition and appreciation during morning meetings or in group emails is enough to thank employees for a job well done and encourage them to continue.
Hold one-on-one meetings with your employees to discover the ways they'd like you to reward them for excellent performance. A raise will motivate some workers, while other staff members will appreciate small gifts or occasional contests for upselling or positive customer comments.
Keep the lines of communication open with your employees. If you maintain a respectful but relaxed relationship with everyone from the executive chef to the hostess to the busboys, they'll be motivated to do their best to please you.
Host regular dinners or outside events where front of the house and back of the house employees can interact and get to know each other better. The effort will result in a more unified, content team.