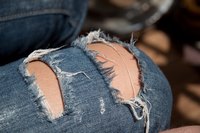 Those beat up jeans in the store may look great to you, but they're way too expensive for denim that already has holes in it! Check out how to get the destroyed denim look for your old jeans and save yourself some cash.
Things You'll Need
Sandpaper
Nail file
Scissors
Bleach
Spray bottle
Washing machine and detergent
Paint
Clothes line or laundry rack
Old clothes and towels
Start with an old pair of jeans. They must be standard denim jeans, not the type with lycra or spandex in them for stretch.
Beat up your jeans, specifically where wear would occur naturally. That means you want to shred up the knees, the bottom edges of the hem, and up towards the pockets. You can do this by taking a piece of sandpaper and sanding down the pants roughly. This will shred the denim a bit and wear away the dye.
Add holes to the jeans, again, where wear would occur naturally. This might mean adding a hole to one knee using scissors. You can do this by using one side of the scissors to drive through the front of the denim and then cutting across.
Fray the holes so that they look natural. You can fray these by again using sandpaper or, for a gentle fraying, a rough nail file.
Bleach your jeans--sounds funny when you're usually avoiding getting bleach on them! Pour bleach into a spray bottle. Hang your jeans up on a clothesline or lay them over the edge of your washer. This next part is a bit messy: You'll want to place an old towel underneath your workspace and wear old clothes while you're doing this. Once this is done, turn the spray bottle on mist and gently mist the spots on the jeans where you want fading and bleach spots. Concentrate on a few small areas and don't overdo it!
Immediately throw your jeans in the wash and wash them with detergent. This will prevent the bleach from spreading too far out. Dry as usual.
Splatter a few different colors of paint on your jeans. This should look like you were painting your house and you accidentally splattered some on you--not as if you brushed it on.