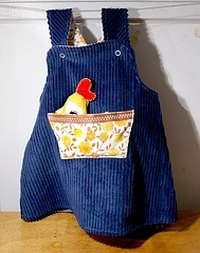 Boutique clothes for kids are essentially one-of-a-kind clothing items, usually with bold patterns and designs. Parents can choose to purchase high-end boutique clothing for their kids, or, if they want boutique clothing at a cheaper price, they can learn to sew boutique kids' clothing themselves. You can always sew boutique clothing from scratch using store-bought patterns and mixing and matching bold fabrics, but there is a much easier way. Here are tips for sewing boutique kids' clothes.
Things You'll Need
Scissors
Fabric remnants and scraps
Fabric trim
Fabric patches
Clothing embellishments
Fun buttons
Purchase well-made, high-quality clothes from your favorite kids' clothing retailer. Also purchase assorted fabric trims, like fur pieces, ribbons, patches, appliqués', fun buttons and fabric remnants with cute patterns.
Start with an easy item like a pair of jeans. Cut two wide strips of fabric as long as the circumference of the jean legs.
Sew the raw edges of the bands of fabric together. Then sew them onto the end of the jeans, with the jeans inside out.
After the additions are sewn onto your jeans, fold the colored fabric back into the jean legs to make a lining.
Turn the end of the jeans up, and you have created a one-of-a-kind pair of jeans, just by adding a cuff. Finish the jeans by decorating the legs and pockets with appliqués' like the decorations shown in this photo.

Once you have the hang of adding embellishments and trim onto your clothes, you will want to try cutting off parts of clothes and changing the construction of items. Try cutting off legs to Capri length and adding layers of ruffles. Add a fur collar to a denim jacket. Add a fuzzy crochet trim to a regular sweater. Before you know it, you will be making every item of clothing your child owns into a boutique piece.