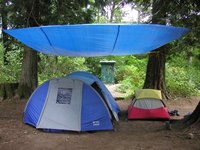 Camping is a great way to get away from it all for a while and bond with your family, making memories to last a life time. Here are some ideas to help you have a great camping trip without spending a lot of money!
Bring along two ice chests. Keep only food in one, and only beverages in the other, since your clan will probably reach for drinks more frequently. This will help the ice in the food cooler last longer, since it is closed most of the time. Keep all coolers in the shade.
Rough it. Renting an RV can be expensive, and even if you own one there are costs to consider, such as gas, which is generally more expensive for an RV than a car or truck.
Economize. Chances are, you won't use it more than once or twice a year, so stick with the basics rather than spending a bundle on top-of-the-line gear. Better yet, borrow a friend's!
Plan ahead and reserve a spot at the campsite where you plan to stay. There is nothing worse than arriving at the campground late at night and not being able to find a spot. You don't want to wind up paying for a motel room!
Bring plenty of food and water. Stock up on lots of non-perishables like cans of tuna and chicken, beef jerky, crackers and canned soups. There might be a store near the campground, but you can bet the prices will be higher.