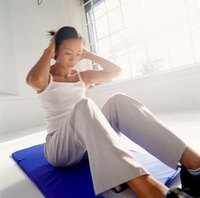 Overdo it with the stomach crunches yesterday, and now you are really feeling it? Does your stomach feel tight and overworked? It is simple and easy to treat sore ab muscles.
Rest your abs until the soreness is gone. You need to give your muscles a chance to heal before you do stomach crunches or other ab exercises again. Usually, two days will do it.
While you rest your abs, if you feel comfortable enough, it is OK to do other exercises, such as walking, or other toning exercises that do not involve the abs. Avoid any exercises that feel as though they may pull on, or cause more discomfort to, your abdominal area. Some leg exercises, for example, may pull on the lower abdominals. Use your own judgment. If it feels uncomfortable, just avoid the exercise.
The first day, start using a heat pack or heating pad on your stomach to ease muscle soreness. You may also find that heating your back, too, can help your abs, because sometimes when the abs feel sore, the lower back does as well. Heating from both sides can really help you to feel better. Ice would most likely be uncomfortable on the stomach area. You can try it, if it feels better for you; although usually heat feels better.
On day two or three (depending upon how you feel), do some light torso stretches. Gently twist from side-to-side. Lie down flat on your back and stretch your arms and legs, so you body becomes one long line.