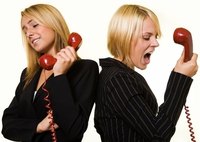 Poor customer service and faulty products are not new. Yet, with the advent of e-commerce, international sales and voice mail, it is increasingly difficult to communicate directly with a live person, let alone one who cares to rectify a problem. These tips can help you effectively complain to a business to get your voice heard.
Gather documents related to the purchase such as receipts and warranties if needed. Be equipped to provide other purchase information such as a serial number, membership information and method of payment used where applicable.
Clarify the problem in factual terms and write down specific problems and details to serve as a guide for written or telephone correspondence. Complain to a business in factual terms as it relates to their responsibility rather than emotional consequences you may have encountered.
Organize complex complaints in order of importance. If you complain to a business in written form the foremost issue should gain their attention first. Be as concise as possible to maximize results.
Direct your call or written correspondence to the correct department to minimize frustration. Summarize your complaint to an operator or front line service representative and avoid unnecessary details. Ask for the appropriate party to handle your business complaint.
Ask for the name and extension of the business representative you speak with after your name is provided. A friendly or business demeanor works well. This will minimize defensiveness yet make it known that you are serious in your efforts at resolution.
Complain to a business effectively by talking to customer service in a calm but serious manner. Allow them time to digest the problem and rectify the situation, which may take longer than you expect. State expectations clearly and reasonably, be it a refund, replacement or other remedy.
Ask to speak to another representative if you experience significant difficulty with communication or the representative seems ill-equipped to handle your request. If you receive resistance, stand your ground. Explain that it will save both parties time for you not to have to make another callback.
Demand a superior only when it is needed as this is frequently an overused request. Know that when you complain to a business, managers typically discourage or reprimand subordinates for transferring such calls without proper vetting. Therefore managers may not respond well themselves. If the customer service representative has the capacity to handle your concerns, but is simply unpleasant, give them another opportunity to do so within reason. Make the person aware of your intention to offer them one more chance. Often attitudes adjust for the better and results come more quickly.
Request the name, address, phone and fax number of a lead manager if your complaint is not resolved. If this is not available, ask for an alternative. Emphasize your willingness to work with whomever will handle your problem and your expectation that the feeling is mutual. Limit threats of complaining to third parties, such as the Better Business Bureau, as a last resort.