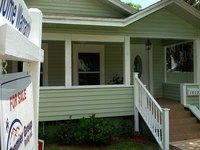 Few people buy homes without a Realtor but many people attempt to sell a home without the help of a real estate professional. However while it may seem that a home seller will make more money on his or her own, they may actually be better off the help of a Realtor. Some reasons using a Realtor to sell your home is more beneficial would be advertising power, connections, and experience in selling homes. Here are some tips for selling your home using a Realtor.
Things You'll Need
recommendations for a good local Realtor
Hire a Realtor who specializes in selling houses in your area. You may be tempted to use the same Realtor you used to purchase the house, but I would strongly advise against it. When buying a house, you need to find a Realtor who you can build a relationship with, and who will take as long as you need to help you find the right house whether your search is in a small area, or if it takes you all over a metro area. It is very important for your selling Realtor to have experience in selling homes in the area and neighborhoods that your house is in. According to www.realtor.com, "The NATIONAL ASSOCIATION OF REALTORS® studies show that 82% of real estate sales are the result of agent contacts through previous clients, referrals, friends, family and personal contacts. " This is another reason why a local Realtor is so important.
The Realtor will do a walk through your home to determine the sales price. Many people choose the Realtor who gives the highest sales price. This is not a smart thing to do. Instead of choosing a Realtor who inflates the value of your home, pick the Realtor who can show you why your home would sell for a certain amount and then give you tips on changes that will make it worth more. According to Realtor Rose Morgan at rosemorgan.com, "The number one reason For Sale By Owner sellers do not sell their home is because it was not priced right."
Take the advice your Realtor gives you in changing furnishings and painting or upgrading rooms. Do as much as you can afford as they know what it will take to maximize the profit on your home.
Let your Realtor do the negotiating. Selling your home can be an emotional experience and sellers can take low offers as a personal insult. Let your Realtor buffer the blow and help you negotiate from your brain and not your heart. According to www.therealtor.com, "Your realtorcan help you objectively evaluate every buyer's proposal without compromising your marketing position. "