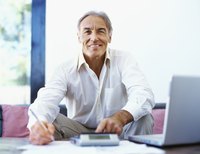 Rebounding after a financial setback -- whether it's from a downward credit spiral, divorce fallout or unforeseen expenses -- means establishing a budget, living within your means, paying off debt and rebuilding a good credit score.
Make a Budget
Shore up your financial picture by making a detailed list of all of your debts and financial obligations, divided into monthly payment obligations, where possible. A spreadsheet program can simplify the task and make your budget easier to access and update. Tally up all of your regular spending -- track everything from groceries to haircuts -- and reduce or eliminate all but essential expenditures. Compare your expenses to your income and keep adjusting and cutting until you meet your debt obligation, ideally with cash left over to put into savings or pay down debt.
Pay Important Bills
To get back on track financially, always pay your key financial expenses -- namely your mortgage, auto payment and revolving debt. If you get behind in these areas, you risk losing tangible and vital assets as well as doing serious damage to your credit score. If you can't pay your debts on time, contact your creditors to make payment arrangements or inquire about debt reduction or forgiveness.
Prioritize Debts
Make a plan to pay off your highest interest debts first. Transfer high-interest credit card balances to lower-interest cards or make more than minimum payments to ensure your monthly checks aren't just covering your interest and never paying down principal. Once you've paid off a high-interest loan, put that payment toward your next high-interest debt and double up to pay down balances faster.
Stop Spending
Resist the urge to take on new debts when you're rebuilding your finances, and don't make large or extravagant purchases you don't need. If you've gotten off track and are in repair mode, chances are you won't qualify for the best interest rates or terms, so taking on new credit -- like buying a new car -- will only set you back. As much as possible, live on a cash basis or use debit cards rather than using credit cards.
Monitor Your Credit
Your credit score can take a hit if you've made financial missteps or gone through a rough money patch. Making future bill payments on time and paying down debt will help you rebuild your credit score. Keep tabs on your credit report to monitor progress, and report any errors as soon as they pop up. This is especially vital if your financial troubles are related to shared debt that can occur in a divorce. Consult with a qualified credit counselor if you need additional help getting your financial life back in order.