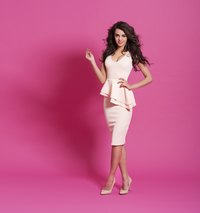 Flattering cocktail dresses make getting dressed for events quick and rewarding. They look stunning at weddings, evenings on the town, dates and gala events. The secret to feeling at home in a cocktail dress is choosing the right cut, color and shape. Women with large busts need to look for very specific shapes for flattering support, whether you want to show off your body shape or downplay the upper half.
Hug the Curve
The most essential aspect of any cocktail dress is the cut of the fabric. Dresses with a nipped-in waist will give your body a balanced hourglass shape. This cut includes wrap dresses, hourglass-shaped shifts and classic bandage wrap dresses. Gently A-lined skirts balance out your top and bottom halves. However, avoid skirts with lots of extra volume, which tend to weigh you down in a sea of fabric.
Alternatively, a curve-hugging dress with a pencil skirt shape more fully shows off an hourglass figure for those ladies who want to show what they have. Avoid dresses with a boxy, shapeless cut.
Neckline Nirvana
Along with the general cut of the dress, the neckline creates a balanced frame for women with larger busts. Avoid boat necks or high necklines that draw attention to your bust area and create uniform heft on top. Instead, look for V-necks, sweethearts and scooped necklines that open up the chest area.
For bolder looks, opt to show a bit of cleavage with a slightly lower V-neck cocktail dress that opens up the torso and creates an elegant line on top. Alternatively, modest women should opt for a gently arched scoop neck that opens up the chest, keeps the bust covered, and helps camouflage volume on top.
Talk About Straps
Support plays an essential role for women with larger busts. Therefore, avoid strapless, off-the-shoulder or spaghetti-strap dresses, which provide little support and no extra shape for your upper body. Also, nix any dress that has wide or voluminous sleeves, which make your top and bottom halves look out of proportion.
Instead, look for cocktail dresses with wide shoulder straps or capped sleeves that allow you to wear comfortable, shapely undergarments. A supportive one-shoulder cocktail dress also opens up your upper torso and gives you a subtle neckline that downplays volume on the upper torso.
Fabric Fanatic
Fabric choice changes the look and feel of any cocktail dress. Look for matted fabrics that provide a smooth, elegant palette. Shiny satins or polyester blends often ripple and fall in surprising patterns that draw the eye to the bust,-- not the ideal place for eyes to fall at a gala or date. Opt for fabrics in rich jewel tones and dark neutrals, which will create a smooth, shapely effect.
Look for cocktail dresses that have more beading and detailing around the bottom half of the dress and not along the bust line. This strategy helps balance out your frame and keep the top half from feeling bulky.