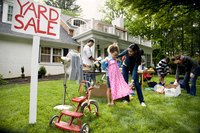 Having a yard sale is an excellent way to unload your clutter, while simultaneously making money. However, you need a good amount of items to make it worth your time. If you can gather enough merchandise, you can have the hottest sale in the neighborhood and net a big profit.
Things You'll Need
Cleaning rag
Cleaning solution
Storage area such as garage or shed
Gather a wide variety of items for all ages and types of customers: furniture; collectibles; books and magazines; outgrown baby items; craft supplies; toys of all kinds, especially Fisher-Price; household items; large and small kitchen appliances; hand and power tools; videos; linens and even houseplants. Sell anything you no longer use. You may view such things as junk but others will not. Many collectors and dealers frequent garage sales, so don't be afraid to include things without a match such as a single glass, teacup or dish.
Declutter and organize items you do not want to keep. Store your yard sale merchandise in clearly-labeled boxes. All kinds of things sell at yard sales so don't overlook anything because you think it won't sell. You never know who might buy and every sale adds up to a big profit. Even old wooden spools sell.
Go room to room and start cleaning, purging and placing all your unwanted things into labeled boxes, one for each type of merchandise. Set aside items you are sure will never sell in a box labeled "free." Offering items for free builds customer goodwill and will make it more likely they will haggle less. Look through your kitchen cupboards for that never-used pasta maker. Check what treasures lurk in your closets or dressers. Look in the basement, attic and even the garage for items you never used that now collect dust. Even wedding dresses have been known to sell at yard sales. If you haven't used something in a year, it is a good candidate for your yard sale.
Inspect your items as you place them in their designated boxes. Clean and repair as necessary. It's much easier to do it now then all at once when pricing. Move all your yard sale boxes into one place such as the garage or shed.
Judge whether you have enough items to hold a yard sale. Three or four tables is the minimum. Customers often won't decide to stop until they see how much merchandise you have. If all you can muster is one or two tables, many will not even bother stopping. If you lack items, get a friend or three to go in with you. The more you have to offer, the more customers you will have. Give all your neighbors a flier advertising your sale and ask if they would like to also have one. The more sales occurring in one area, the more people will come. Another option for obtaining more merchandise is to buy items for little money at a Goodwill auction and resell at a higher price. You will further boost your profits.