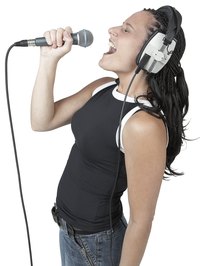 A beautiful voice is the result of talent and hard work. In addition to training your voice and learning music theory, you must also learn how to maintain your voice to keep it in the best condition possible. Unexpected illnesses can make an upcoming singing engagement a stressful and worrisome prospect, but there are a few ways to nurse yourself back into singing condition before the big day arrives. As long as you are careful and methodical in your approach to voice recovery, you should see a marked improvement in your song voice.
Things You'll Need
Stay hydrated. Drink 2 qts. of water each day to help replenish your body's moisture, as sickness can lead to dehydration, which will further damage your singing voice.
Avoid coughing except to discharge phlegm or mucus. Dry coughing or clearing your throat can damage your voice; avoid this damage by humming lightly when you feel an itch.
Stick with your vocal exercises and use as much of the scale as you can access while sick. The more you use your vocal muscles, the more flexible they remain during downtime.
Visit an ear, nose and throat specialist to get an idea of what is going on with your voice. While some vocal symptoms are caused by allergies or colds, others are caused by tears in the cord or hemorrhaged blood vessels. A doctor's opinion is critical in planning a successful recovery.
Get plenty of sleep so your body can rest and heal itself. Your vocal cords will heal just like the rest of your body, provided they have the opportunity.
Drink warm, smooth liquids such as honey or ginger tea. These soothe your vocal cords and make avoiding coughing a little easier.
Boil a pot of distilled water and pour the liquid into a bowl. Cover your head with a towel and lean over the bowl to inhale the steam for five to ten minutes. Do not speak for the next 30 minutes to receive the full benefit of this soothing treatment.