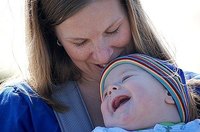 Do you think it is impossible for you to be a stay at home mom? With just a little adjusting of your budget and routine you just may be able to afford to stay home without loosing much of a income. You may even find out you are wasting money by working outside the home. Working costs money. After the expense of daycare, clothing, eating out, gas, and then after the usual taxes take there is sometimes very little paycheck left. In fact at times when I bought things for convenience because I felt overworked, I believe working outside the home cost me money. Unless you make a very substantial salary, you may be better off staying a home taking care of your kids. Even if you do make a little more money then it costs you to work there are ways to cut your budget to achieve your goal of staying home with just a little practice and patience. Let me share with you on how I was able to stay home.
For the next couple of weeks, keep track of where your money goes. Look at your credit card slips. What are your actual expenditures and what ones can you slim down or cut out.
What are you paying to drive to work: How much gas do you use and what extra car expenses do you have due to work. How much you save here depends on how far you live from work. I live in small area and must drive to go to work, so I put over 50 miles a day on my car to go to and from work. A huge savings, but someone who lives close to work still could save quit a bit.
Rethink your shopping expenditures: Shopping second hand could save you hundreds a year and you could even find things you could not other wise afford. Just make sure it is in your budget before you buy anything you would not usually buy. Also, sign up at freecycle.org to see what others are giving away. You may be able to find allot of things you need for no cost at all.
Think about ways you can save on food. Try to skip the drive thru, not only are they are bad for your health they can easily put wholes in your budget.
By generic foods when possible. You can always try a few at a time, many times they are made by the same company and taste similar.
Grow your own herbs and small vegetables when possible. Many plants can even be grown in container' s on your porch or inside.
If your family eats allot of meat, try to find a local rancher that you can buy meat and bulk and freeze. Remember that meat does not need to be the main coarse. I save on average over three a pound this way for Beef.

Shop during the week right after the ads come out. Not only will you be less rushed due to a crowd and be able to think through your purchases you will be able to take advantage of all the grocery items on sell. This is usually Wednesday were I live.
Go green: There are many things you can do in your home that will allow you to do your share of saving the planet and help you save some money at the same time. Conserve energy by turning the televisions, cable receivers, and computers off when you leave the house and turn lights off when you are exit a room. According to the Energy Star website, "sealing the shell of your home is one of the most cost-effective ways to lower your home' s energy bills." Some things will even allow you to receive a large tax break at the end of the year. Check with the IRS or your tax professional to learn more. Check with Energystar.com for more cost effective ways to save money by going green.

Day care: You will be able to take care of your kids and spend quality time with them. This could be major savings. This alone with three boys saves me close to a thousand dollars a month.
Look for other monthly services that you no longer need now that you are staying home: For instance do you really need you own cell phone, and if you still do, is your current plan still the best plan for you.
Take the time to compare monthly purchases that you use that your family still desires. For example, if you rent movies monthly will you save money by going through a mail service such as Blockbuster. Also look at your phone plan , internet package, and cable service to determine if you are still getting the best deal.

Now that you have gone through the steps and are aware where you can save money, sit down and do the math. You may find you can afford to stay home with your children! As for me, I found out I was paying to work. How crazy was that. (I found http://www.parents.com/app/stayathomecalculator to be useful in calculating my expenses).