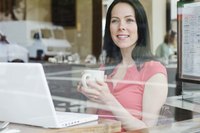 Many freelance jobs posted on job boards require a bidding process to determine who will receive the project. While having the lowest price will often land you the contract, underselling yourself can quickly lead to burnout and an empty pocketbook. When a client is looking for quality work, he may consider a higher bid if the freelancer shows that the price is worth the talent. A bid with nothing to prove the talent of the freelancer will quickly be tossed to the wayside.
Read through the bid request completely. The request will detail the particulars of the work and will give you an idea of how much time you must devote to the project.
Construct a portfolio and resume that showcases your work plus one or two samples that are along the same line as the proposed project if possible. Your portfolio is one of the most important parts of your bid, as it is the only way the potential client can judge you.
Project how much it will cost for you to complete the project. Base the amount on the time commitment required, the type of work you would need to do and how much you charged for similar projects in the past.
Prepare a cover letter outlining your bid proposal. The bid proposal should include how much you are requesting for payment, how long the project will take and why you feel you are the appropriate fit for the job.
Submit the proposal and your resume or portfolio as outlined in the job advertisement. Submitting your bid any way other than what is outlined can result in your proposal being immediately disregarded.