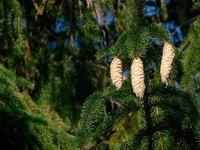 How to Clean Pine Pitch From Skin. Pine pitch is incredibly stubborn. It sticks to your skin and is nearly impossible to wash off without using a substance other than regular soap to remove it. Fatty substances can remove pitch from the skin without much effort. Here are a variety of substances you might have around your house that also can help you to remove the pine pitch.
Things You'll Need
Butter knife
Mayonnaise
Paper towel
Cooking oil
Peanut butter
Scrape off as much of the tree sap as you can using the backside of a butter knife. Be prepared to clean the sap off of the knife if you use this method.
Apply mayonnaise generously to the affected area. The fat in the mayonnaise helps to break down the pitch and remove it from the skin.
Saturate a paper towel with cooking oil. Rub it into your skin, gently scraping at the pitch to loosen it and clean it off.
Scoop a tablespoon or so of peanut butter out of the jar. Rub it into your skin and let it sit for awhile.
Wash the area of skin with the pitch now cleaned off to remove any fatty residue. Repeat using a different type of fatty substance if there is any pitch remaining. Try scrubbing gently if the pitch is caked onto the skin.