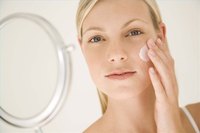 How to Clear Pimples and Facial Marks With a Natural Indian Treatment. The beauty section of every supermarket across America is stocked with skin care products which promise clear skin. However, harsh chemical products may aggravate your skin in the process, and some of these products can cost a small fortune. If you are looking for an inexpensive, alternative remedy for clearing blemishes, turn back time and try a natural Indian treatment.
Things You'll Need
Whole nutmeg
Mortar and pestle
Honey
Lemon (optional)
Small air-tight container
Towel
Purchase whole nutmeg, as whole nutmeg tends to retain it's natural oils longer than ground nutmeg. Grind 1 tbsp. of nutmeg with a mortar and pestle until it is a fine powder.
Place the finely ground nutmeg in a small container, such as a baby food jar or old beauty cream jar. Mix in 1 tbsp. of pure raw honey. If you have oily skin and plan to use this natural Indian acne treatment on your entire face, add up to 2 tsp. of lemon juice to help control oil.
Mix the ingredients well and apply the paste to each pimple individually or to your entire face. Depending on how severe your acne, you can leave the paste on for an hour or two or all night. If you use this treatment overnight, protect your bedding with a towel over your pillow.