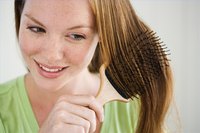 How to Grow Longer, Stronger, Healthier Hair Using Natural Ingredients. Most women want longer, stronger and healthier hair. But with dying, electric dyers and curling implements more popular than ever, it's hard to keep hair in peak condition. Luckily, there are many natural ingredients that can help you.
Eat more Vitamin C foods, such as citrus fruits, and Vitamin B rich foods, such as lean sources of protein. Zinc deficiencies can cause hair problems, so try eating more fortified cereals, oysters and nuts. You can also take a multivitamin as a natural ingredient.
Massage your scalp. Simple massage, with or without herbs, increases the blood flow to the hair, making hair stronger and healthier.
Consider using herbal mixtures or herbal shampoos. Herbs such as rosemary, nettle, horsetail and cystine all help hair become healthier.
Try mixing 2 egg yolks with a cup of water. Massage into your scalp and leave in place for about 5 to 10 minutes. Rinse it out with lukewarm water. Rinse your hair with 2 tbsps. of apple vinegar.