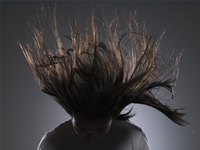 How to Grow Coarse Hair Longer. If you have coarse hair, growing it long can be a hassle. It's easy for long, coarse hair to look unsightly. However, with the proper care and treatment, you can grow an exotic, attractive mane.
Cut any hair damaged by chemicals or overstyling. Visit your stylist and tell her you plan to grow out your hair. Ask if you need any hair treatments such as deep conditioning. Eat healthy foods and take vitamins daily to promote hair growth.
Condition daily to moisturize your hair. Pay attention to the ends of your hair that may begin to look damaged as you grow your hair out. However, you do not need to wash your coarse hair every day. Just condition while you shower or bathe.
Deep condition at least once a month. Use a leave-in conditioner or hot oil treatment. This serves as another source of moisture for your coarse hair.
Maintain regular contact with your stylist. Coarse, dry hair breaks easier. Growing your hair out may require more salon-grade products. Ask your stylist to help you address any concerns you encounter while you attempt to grow your hair out.