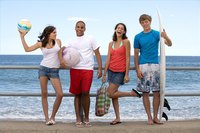 How to Buy Birkenstock Sandals. The Birkenstock company has been in the business of making shoes and sandals since 1774. Based in Germany, Birkenstock has developed a strong reputation for quality products as well as versatility, style and environmental sensitivity. This makes Birkenstocks one of the most popular brands of specialty sandals in the world. Birkenstocks are unique and require a little bit of education before purchasing.
Find a Birkenstock store near you. They're located in most large shopping malls. If your local mall doesn't have a store, use the store locator on the Birkenstock website to find the closest one.
Choose the material you prefer. Birkenstocks come with uppers in traditional, nubuck, faux and faux-nubuck leather. They also come in felt and microfiber, but the base of the shoe is always made out of cork.
Select the model you like best. Birkenstocks come in thongs, open-toed and closed-toed sandals. They also come in styles with straps on the back, without straps on the back and in closed-toed, covered versions.
Get the Birkenstock sales representative at the store to help you find a perfect fit. Birkenstocks fit differently than other shoes, and the sales representative will have a special Birkenstock sizing chart to assist you. The chart relies on width, rather than length, to find the best fit for you.
Stand in each pair of sandals to check for fit and feel, and walk around to make sure the sandals are comfortable. Birkenstock sandals should naturally push you back on your heels into a proper standing position, so make sure whatever pair you buy does this.