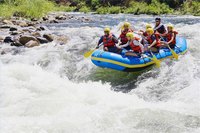 How to Buy Teva Sandals. Teva sandals were invented in the mid-1980s when a young rafting enthusiast discovered there were no sandals suitable for river-based activities. Most sandals weren't waterproof or slid off of the feet too easily and almost none of them provided the traction required to walk along a riverbed without slipping. This young rafter created Teva (Hebrew for "nature") sandals to fill this gaping need. Today, Teva sandals are still used for river activities but are also popular as fashion items on their own.
Find a nearby source of Teva sandals. Teva sandals are most commonly sold in sporting-goods stores, particularly those that cater to kayaking, rafting and hiking enthusiasts. If you can't find a source near you, you can shop online at the Teva website (see Resources below).
Try on several different pairs of Teva sandals before you buy, including pairs that are a half size smaller and larger than what you think you'll need. It's important that your sandals fit snugly enough stay on your feet while being comfortable enough that they won't distract you out on the river.
Walk around in each pair of sandals for two or three minutes, taking both large and small steps as well as slow and running steps. This can help you get an idea of what the sandals will feel like under different conditions.
Look for the Teva logo on the sandals. It's important to avoid imitations because Teva sandals have been specially designed and constructed for river-based sporting activities. Imitations may not hold up under pressure.
Look for sales. Teva sandals are pricey, but many sporting-goods stores frequently run sales through which you can get these sandals at steep discounts. The best time to buy them is during the off-season for river sports.