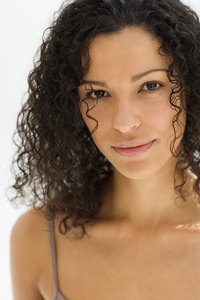 If you have frizzy, naturally curly hair, you know the time and effort it can take to style it just right. Curly hair seems to have a mind of its own and doesn't always cooperate with what you want it to do. As a result, you may feel as though you're fighting a daily battle. However, if you arm yourself with a few products and methods, you may find that you not only win the battle, but the war itself, as well.
Things You'll Need
Shampoo
Conditioner
Anti-frizz and/or curl defining cream
Styling product
Hair dryer
Diffuser attachment
Flexible hairspray
Leave-in conditioner
Shampoo and condition your hair. Curly hair is often dry hair, so a conditioner can replenish your hair's moisture. It also helps with tangles, as curly hair can easily get knotted up. Also try using a clarifying or deep cleansing shampoo at least once a week since using a lot of styling products causes buildup.
Wring out the excess water from your hair before you step out of the shower, but do not towel dry. Towel drying can cause your hair to frizz. If you are going to blow dry your hair, you can take five minutes or so to do other things in your morning routine, but don't wait too long because if your hair gets too dry, it will be more difficult to style because it will frizz.
Apply an anti-frizz and/or curl defining cream. Add extra to any sections that may be more coarse or frizzy. You may have combination hair, or sections of hair that are coarse, frizzy and matted with other sections that are straight and some that curl just right. Treat each section appropriately.
Apply the styling product of your choice. There are products out there for just about everybody. You may prefer mousse, gel or cream. Just make sure to scrunch the product throughout your hair rather than combing it through or pulling it through with your fingers.
Connect a diffuser attachment to your hair dryer. Bend over, scrunch your hair again and blow dry. Don't run your fingers through your hair like a comb because it will pull out the curl or cause more frizz. When your hair is one-third to one-half dry, repeat Step 4 by scrunching more product into your hair to tame any frizzies that have started to show from blow drying.
Spray your hair lightly all around the top with a flexible hairspray. Scrunch and blow dry just a little bit longer until it is still partially wet or damp.
Touch up with an anti-frizz serum or cream if needed. Then spray again lightly with a flexible hold hairspray.
Let the remaining wetness or dampness in your hair dry naturally. Occasionally scrunch your hair while it is still damp to make sure the curl isn't being weighed down and to add volume. If your hair gets too crunchy for your taste, then bend over and scrunch your hair while it is dry to loosen up the stiffness.
Throughout the day, you can rejuvenate your curl with a leave-in conditioner and flexible hold hairspray. If you don't have one of these with you and you need to touch up your curls, wet your hands in the sink and scrunch some water into your hair to rewet your styling products and tame the frizz.