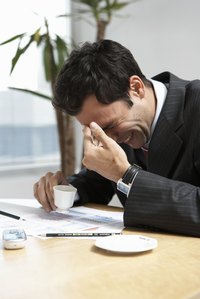 Using proper time management will help to relieve the stress that often occurs when a project has a strict deadline that must be met. Waiting until the last minute to finish a task can cause miscalculations or other errors that will add unnecessary stress. Following a preset schedule to complete each step of the task gives a person extra time to recheck the work for accuracy before moving on to the next phase of the project.
Things You'll Need
Checklist of priorities
Homemade meals
Create a checklist of items that you need to complete for the project you are working on. Set a firm completion date for each item and put the date on the right of the checklist. Be realistic as you compile the checklist so you allow yourself enough time to meet the deadline well in advance. If you finish working on one phase of the project early, adjust the checklist dates to help you stay ahead of schedule.
Bring your lunch with you every day instead of ordering out. Eating a healthy meal will help you to maintain your energy level throughout the day. Overeating or consuming fast food, which is high in fat, will cause your energy level to drop as the day wears on. Your stress level will also increase, which can cause you to panic as the project deadline draws near.
Take a break if your stress level rises or if you notice that you are making careless mistakes. Leave the area if you are able and go for a walk or try to relax in a quiet spot. If you are ahead of schedule, remind yourself there is plenty of time to complete the project by the deadline. Return to work and go over your checklist times to adjust them if necessary.
Ask for help if you do not think you can meet a deadline on time by yourself or if your stress level begins to rise. Delegating requires you to check the work of the person who is helping you, since you are ultimately responsible for the quality of the project. Allow enough time to check the other person's work so the rest of the project stays on track. If you find the quality is substandard, make corrections yourself or advise the person helping you how to improve the work.
Review the project once you finish and do not submit it until you are confident that it will receive an approval. If any part of the project causes you stress during your review, you may need to rework one or more of the items. Have an associate go over the project if you are not sure the quality of the work is sufficient. Make changes if necessary and then submit the project by the deadline date.