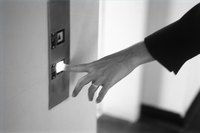 How to Survive in a Falling Elevator. Most of us ride elevators every day, taking for granted the elaborate safety features that allow us to travel hundreds of feet at great speeds without fearing for our lives. Although elevator accidents are exceedingly rare, their outcome, in terms of human loss, can be catastrophic. If you're ever in a plummeting elevator, there are simple measures you can take to significantly increase your chance of survival. Read on to learn how to survive in a falling elevator.
Remain calm. You are much more likely to survive an elevator fall if you concentrate on problem-solving rather than panicking. Elevator engineering actually works in your favor in the event of an emergency, as the height of hydraulic elevator shafts is rarely over 70 feet and cable elevators almost never fall to the bottom of their shafts. You are much more likely to sustain injuries than to die in an elevator accident.
Lie flat on the floor, as close to the center of the elevator as possible. Place your arms on top of your head, covering your face, for protection against falling debris.
Resist the temptation to remain standing and jump at the end of the fall to save yourself. This mythical advice is unfounded and defies basic laws of physics. To begin with, it would be almost impossible to remain standing in a plummeting elevator and even more difficult to plan a jump that perfectly corresponds with the elevator hitting the bottom of the shaft. The elevator floor is the safest place to be.
Ignore everything you've seen in the movies. Attempting to open elevator doors or to crawl into the shaft will drastically increase the extent of your injuries and your chance of dying.