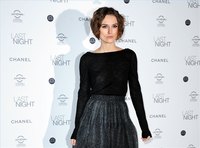 How to Dress Like Keira Knightley. Known for dressing trendy with a unique flair, Keira Knightley always makes a dramatic entrance. Her style has been featured in countless magazines. And whether or not her style is a hit or a miss, she is certainly never boring.
Buy lots of eyeliner. Keira is never seen without her gorgeous brown eyes dramatically outlined and shadowed. For eye shadow, she usually prefers a smoky look or metallic bronzes and browns. Line the top and lower lashes with black eyeliner and top it off with black mascara or even buy falsies. The rest of her makeup is subtle, so don't overdo the look by also having dramatic lipstick. Go light and natural on your lips.
Go braless. Keira's small frame is enhanced by her refusal to look like every other over-enhanced actress. Her naturally petite frame looks sexy and free in low cut tops held together by duct tape and a prayer. If you are bustier than Keira but still wish to capture her look, you can achieve the same effect with a top that has a built-in bra.
Experiment with different hair styles. Keira likes to change her hair style, never wearing it the same way twice. Sometimes she'll lighten it, other times she'll darken it. She'll cut it, she'll grow it out. She wears it up, she wears it down, she wears it up again but in a different way...you get the idea. She also doesn't mind to have a little root showing. Although she wears it in a multitude of ways, she never wears it formal. It always looks casual and breezy but still sexy.
Learn to love large jewelry. Keira favors large, eye-catching pieces that you wouldn't see every day. Twice she has been photographed wearing a large, peacock feather-style necklace that is both unique and classy. She also likes wearing her hair up with large, dangly earrings.
Wear trendy items in basic colors. Keira always dresses unique and has no problem baring skin, but she doesn't wear screaming colors that would distract from the style. With her small frame, she can show skin without looking trampy or frumpy. Just make sure your clothes are not bunching or stretching. Keira's skin-baring outfits fit her loosely, not skin tight. Look at yourself in the mirror before you leave the house. If you feel at all uncomfortable--change your outfit.