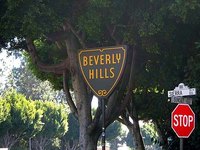 Ahh, Los Angeles: where $400,000 might buy you an 800-square-foot house. Maybe. But, with a little planning and some discipline, you can stretch your dollar and live like a star. Well, at least like Carrot Top.
Rent. In some cities, it's cheaper to pay a mortgage than it is to rent a house or an apartment. Not in LA.
Shop at Santi Alley in the Fashion District. There, you can buy a lot of the same clothing you find in high-end boutiques for a fraction of the cost. Also try a high-end outlet like DNA Clothing Company.
Buy used clothing and memorabilia donated by celebrities and movie studios at Out of the Closet thrift stores.
Shop at 99 Cents Only stores, where you can literally stock your place with everything from groceries to flatware and utensils to cleaning supplies, towels, trash cans, storage, toiletries, CDs and DVDs, home decorations, clothing and even alcohol for just 99 cents each.
Eat free on Sundays at the New Dwaraka Temple. It's vegan, but it's free!
Go to a park. Hike through Runyon Canyon, enjoy the view in Kenneth Hahn Park or do practically anything at the largest park in Los Angeles, Griffith Park.
Learn a thing or two at these free museums: the J. Paul Getty Museum, the California African-American Museum, the California Science Center, Griffith Observatory, Travel Town Museum and the Fowler Museum at UCLA.
Buy used CDs, DVDs, tapes and records at Amoeba Records or Rockaway Records. Of course, you can also sell them to get some extra cash.
Park at the Hollywood & Highland Center. It's in the center of all the Hollywood tourist action--Walk of Fame, Grauman's Chinese Theater, Kodak Theater and more--and costs only $2!
Shop at a local swap meet, like the Slauson Super Mall, the Los Angeles City College Swap Meet or the Valley Indoor Swap Meet.
Call Pink Dot delivery service at 2:00 AM and have them deliver groceries, coffee, alcohol, medicine or whatever you need. The fee is only $3.50, which might be less than what you'd spend on gas.
Visit the Santa Monica Pier, a much cheaper alternative to Disneyland or Six Flags Magic Mountain. It has an admission-free amusement park, carousel, arcade, and aquarium. And it's on the ocean!
Enjoy free outdoor concerts at the Musicians Institute on Friday evenings.
Take the Metro. Contrary to popular belief, not everyone in Los Angeles drives. With the Metro system, you can take a train or bus almost anywhere in LA County and save on gas.
Attend free tapings of TV shows. Network websites have contact information for their ticket offices.
Park on the street instead of using a valet. Just make sure to read street signs carefully, including the ones on hills that instruct you to point your wheels toward the curb when you park, so you don't get a ticket.
Eat out cheaply. Although Los Angeles is known for its hoity-toity, health-conscious food, there are a surprising number of donut shops, hamburger restaurants, and walk-up fast food stands serving everything from burgers to Asian rice bowls, tacos and hot dogs.