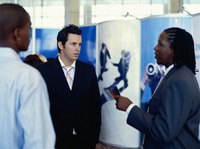 How to Start a Market Research Company. Market research helps businesses better understand their customers, learn the best ways to target a market and determine how to best promote their product or service. A market research company meticulously gathers relevant information about these customers, analyzes the data and reports on the findings.
Define your target market. Decide if your market research business will focus on food, retail brands or media.
Create a business plan. Writing a business plan will focus and define the services your market research business will offer and help define your target market.
Network nonstop. Use your contacts to learn any valuable information that will benefit your business. Join organizations such as the Chamber of Commerce and Small Business Association. Some organizations can be a source of free public relations and advertising for your market research business. They can also alert you to special opportunities that can benefit your company.
Create customized questionnaires. These questionnaires will help you to gather the most relevant information to benefit to your clients. Keep the questions short with easy to follow directions on how to answer. Focus the questions on one topic. Ensure the questionnaires are composed of general questions that allow you to obtain necessary demographic information such as age, income level and education.
Communicate with local business owners. This will keep you in the know and give you a better understanding of a client's marketing needs and challenges. Staying aware of these issues puts you in the position of being able to solve marketing problems and maintain clients.