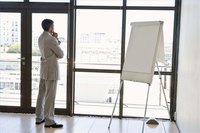 A freelancing contract sets forth in writing the agreement between you and your client. It names what you're going to give your client, the time frame for your work, your compensation and any other relevant information. Rather than creating tension in a previously amicable relationship, a contract helps prevent misunderstandings and make clear what's expected of both parties.
Make the heading of your freelancing contract clear; for example use "Terms of Service" or "Work-for-Hire Agreement." You'll be giving this to your client with a cover letter, but the two documents may be filed separately so include your full contact information just below the heading.
State this is an agreement between yourself--giving your company name, if you have one--and your client. Type the full legal name of the company you're dealing with or the individual if it's a sole proprietor.
Define what you do in general. If necessary, describe the work you'll do specifically for the client. Make it absolutely clear what he's going to get for his money.
Describe the time frame for the work and the due date you agreed on. Tell the client what happens with the fee if you fail to meet the deadline.
Be extra cautious when talking about payment conditions. This is where it can get sticky in court unless you clarify what the payment schedule is and what happens if the client fails to pay on time. It's a good idea to include a statement about late fees or a discount if the client pays early.
Talk about other issues that are standard in your industry. For instance, a freelance writer or graphic designer should state in the contract that they have the right to present the client's product as a sample. Website designers should talk about their responsibilities for updating the sites they create.
Include a clause about terminating the contract. Usually either party can notify the other it wishes to terminate the relationship, but make sure the client knows he's responsible for paying for any work you've done until that point.
End the freelancing contract with two lines side by side, one for your signature and one for the client's signature. Type your name below one line and the client's company name underneath the other. Below these lines, insert two lines for the date of signature.