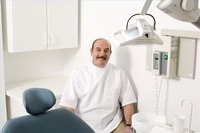 How to Care for a Tooth Filling. Keep your tooth filling in good shape as the day you first chomped on it. If you feel any discomfort with a new filling, or one you've had for awhile, see your dentist right away. Brush and floss regularly to keep your teeth and fillings healthy. Read on to learn more.
Things You'll Need
Expect a new filling to be sensitive to hot and cold for a few weeks. Let your dentist know if the sensitivity does not go away.
Watch for pain. After the initial anesthesia wears off, spend some time biting down. Still feel pain when you bite, the filling may need to be reshaped to fit with your bite, and you need to make an appointment with your dentist.
Tell your dentist immediately when there's an ongoing sharp shocking pain. This occurs with gold and silver filling too close to each other and needs to be corrected.
Brush your teeth and floss regularly to make your filling last as long as possible. Fillings can last anywhere from 5 to 15 years depending on how much they are used and cared for by the person with them.
Ask your dentist about a special fluoride gel that you can use to brush your teeth. Some dentists recommend the gel for people with a lot of fillings.