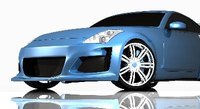 How to Insure a Rental Car. You've made it through the security checks and the overbooked flight. You and your luggage actually arrived on the same plane. Now it's time to rent a car. One of the biggest questions facing you once you get to the counter is whether or not to take the rental company's insurance.
Check your own auto insurance policy to see if it has comprehensive and collision insurance. If so, the policy will cover damage to the rental car if you have an accident.
Pay for the rental car with a credit card. Many cards will protect you from any damages if you are in an accident, but only if you decline the collision damage waiver in the rental agreement.
Opt for the collision damage waiver if you aren't covered by your own auto insurance policy or your credit card company. That way, if you are in an accident, you won't have to replace the car.
Check that you have sufficient liability coverage written into your auto insurance policy to cover any damages you may have to pay for people injured in a rental car accident.
Check your homeowner's insurance to be sure that any personal belongings left in the car will be covered if they are stolen.
Check to make sure your auto policy will cover other drivers, especially teenagers and non-family members.
Check with the rental company for any specials they may be offering. It's best to call the toll free number, call the local number and check the website. The deals may be different on each.