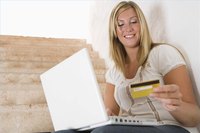 Bankruptcy is a very real possibility for many people these days. Poor planning, overspending, lack of savings, high-interest loans, lack of insurance and other factors can all lead to a negative financial situation. Keeping control of your spending and having a sound financial plan can help you prevent debt or bankruptcy and achieve peace of mind about your financial future.
Create a budget and stick to it. A clear budget that includes all of your monthly bills, food, entertainment and miscellaneous items will prevent you from spending thoughtlessly and buying on impulse.
Maintain clear financial records and a regular payment schedule. Disorganization can cause you to overlook bills and overestimate how much you have to spend. Dedicate a specific time every month (just after payday is best) when you can sit down with your finances, pay your bills and determine how much you have to spend for the month ahead.
Only use credit when you can pay it off within a few months. Using credit cards with no plan to pay the debt is reckless, irresponsible and can get you into big trouble. The longer it takes you to pay off the debt, the more interest that debt will incur--and the more you'll end up paying.
Shred or tear up credit card applications that come to you in the mail. Just because you get the application doesn't mean you need or want the card. Destroying the application will prevent you from using it and protect you from potential identity thieves.
Save for a rainy day. Direct a portion of your paycheck directly into your savings account so you never even see that money. Aim to save enough money to be able to pay your bills for 6 months in case you lose your job or have an accident.
Maintain insurance coverage. Health and home insurance are absolute musts in order to avoid bankruptcy. Unexpected medical bills, flood damage and fire damage can lead to ruin if you aren't properly covered.
Pay taxes correctly and on time. Unpaid tax debt that accumulates can cause bankruptcy.