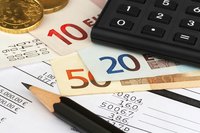 Schedule C-EZ is a simple version of the sole proprietor profit and loss form you submit with your tax return if you run this type of business. Typically, you can file this form with your individual tax return. You must meet certain requirements to use the EZ form instead of the standard Schedule C form.
EZ Form Requirements
The EZ form is intended for sole proprietors who had simple business operations and limited profit. To use it, you must have earned net profit of $400 or less as of tax year 2013, reports TurboTax. In addition, your total business expenses can't exceed $5,000. The Internal Revenue Service also requires that you used cash accounting, don't hold inventory, aren't reporting a loss, have one business and don't have any employees.
Filling and Filing
Online tax reporting software programs normally guide you through the process of filling out the Schedule C-EZ form. The print version of the form also has step-by-step instructions on completing each box. Filing rules are also listed at the top. In addition to basic business information, you input gross receipts and total expenses for the year, which results in net profit. The form also asks questions about whether you operated a vehicle as part of the business. After completing the form, you submit it with your tax filing electronically or in your mailed printed copy.