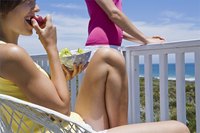 How to Cut Back on Starch. Starch is a water-soluble complex carbohydrate that is found in a huge amount of foods of nearly all diets. As a complex carbohydrate, starch consumed in large quantities can make losing weight difficult. One way to speed up your weight loss or healthy eating program is to reduce and regulate the amount and kind of starch you eat on a daily basis. Follow these steps to learn how.
Evaluate how much starch you eat on a regular basis. In order to know how much starch to reduce from your diet, and how to reduce it, you need to know what your starting point is. Starch rich foods include cereals, bread, fruit, beans and most artificially made foodstuffs. Think about how many and how much of these foods you eat to evaluate your current starch intake level.
Switch to good starches. Losing weight is not as much about reducing starch in general as reducing bad starches. Eating too much white bread (bread that contains enriched flour) is bad for the diet. The same is true of cereal, pasta and any food that contains a lot of carbs and very little of anything else except calories. Switch to protein and nutrient-rich starch foods such as beans and fruits to satisfy your need for starch without impeding your diet.
Regulate when you eat starch. Eating starch at the right times of the day will help you reduce your overall intake of bad starches. Eating starch in the morning is a good way to get a boost of energy that can carry you through the day. By midday, afternoon and evening though, start to reduce starchy foods that not only hurt your diet but make you lethargic and trigger your appetite for more starch.
Exercise and eat protein. Starting a vigorous and regular exercise routine gets you craving dairy and meat proteins that have very little starch in them. Eating these foods, especially late in the day, help with muscle synthesis which, in turn, helps you to burn fat. After a little time, you will find that you prefer eating protein-rich rather than starch-rich foods.