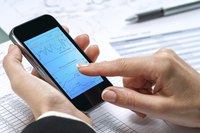 You've set a target price for buying or selling a particular stock. Most brokerage companies send stock price alerts to clients via email when the price reaches that specific limit, or if you've indicated notification of a percentage change in the price. Arranging stock price alerts is just a matter of setting up the service on your online brokerage account. In addition to stock price alerts, you can sign up to receive various other market news, such as closing prices and performance summaries.
Receiving Email Alerts
Email alerts are generally a free service offered by brokerages for their clients. Your brokerage firm should have instructions for signing up for such alerts on its website. After filling in the necessary information -- including your email address -- list the percentage or price change at which you want to receive the alert. Arrange to have your email alert sent to your mobile phone or computer, or multiple devices. Brokerages might allow you to receive the alert in HTML or plain text form. You can arrange to have alerts sent at specific times during the day or receive instant notification of prices or percentage changes. If you're away on vacation and don't want to receive alerts, log in to your account and temporarily suspend the service.