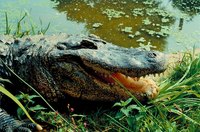 How to Survive an Alligator Attack. Though alligator attacks are rare, if you live in an area with an alligator population you never know if one might confront you. If you find yourself in an unfortunate predicament, such as inside the jaws of an alligator, there are certain things you can do to survive. Of course, avoidance is the best way to survive an alligator attack. But let's assume you're beyond that point.
Run away in a straight line, if possible. Alligators can run up to 10 miles per hour on land, but only for a short distance. Put as much distance between yourself and the alligator as quickly as you can. Chances are good that you can outrun the animal.
Get on its back, if the alligator attacks you on land. Push down on its neck to force its head down. This prevents it from securing you with its jaws. Also, try to put your hands on its eyes. This can be effective in stopping an alligator.
Punch or kick the eyes, nostrils or ears, if the alligator attacks you in the water. Poking an alligator's eyes or delivering a hard blow to the snout or ears can make the alligator release its grip on you. Now you have a chance to run away.
Attempt to pry open the alligator's palatal valve, if your arms or legs are inside the alligator's mouth. This valve is a piece of tissue that closes and prevents water from getting inside and drowning the animal when it goes under water with its mouth open. If you can open this, the alligator may release you once water enters its throat.
Scream repeatedly as loud as you can to attract help. Calling attention to your situation to get help may be your only way to survive an alligator attack.