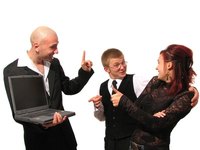 How to Get Customer Feedback. Your success depends on listening to your customers' needs. Between 60 to 90 percent of new product initiatives fail because companies don't get feedback from their target audience. Before you launch your product, put mechanisms in place to make it easy for your customers to give you feedback. Evaluate your responses at least once a week and share these comments with staff and management for appropriate action.
Develop a survey for getting detailed feedback. Make sure you're looking at the product from your customers' point of view. Ask how it fits their needs, not how well your company created it.
Create a feedback center on your website where customers can answer questions when it's convenient for them. Allow them to get out of the process at any time, but make sure the system records and sends you whatever they've filled out. Some feedback is better than none.
Design attractive postcards with a few questions for your customers to answer. Keep these short and send them to segments of your customer base, i.e., by product or date of purchase, for example. This also gives you an excuse to keep in touch so you maintain your visibility.
Hire phone survey experts to call your customers for feedback. You want to choose your targets carefully. In our marketing saturated world, you may turn certain customers off with a phone call. Train your callers to be polite and unaggressive.
Station feedback takers in your stores to survey consumers. Find out who's a return customer and why. Make sure they ask if the person decided not to buy a product to see what potential problems prevent a sale.
Offer a reward for participating in a survey. Take both satisfied and dissatisfied customers into consideration here. Discounts work well for repeat customers but a free gift can get you valuable criticism from someone who's stopped buying from you.
Come up with an attractive incentive for filling out a feedback form. This can be a random drawing or contest. Be aware that some customers will give feedback just for the chance to get something back, so use this with non-incentive feedback methods.