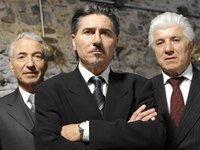 Renaissance writer Niccolo Machiavelli's 16th-century political and philosophical treatise, "The Prince," introduced the world to a leader who was cunning, intelligent and yet duplicitous. Machiavelli was trying to curry favor with the Medici family, the then-rulers of Florence. He tried -- but failed -- to use his book to win political appointment. Merriam-Webster defines Machiavellian behavior as "using clever lies and tricks in order to get or achieve something: clever and dishonest."
Leader or Sociopath?
The goal of a Machiavellian leader is to maintain power and control at all costs. As a result, Machiavelli suggests that good leaders are not always good people, even though they convince their followers that they are. Rather, they are cunning and use control and lies to get ahead. They practice greed rather than benevolence. Machiavellian leaders are narcissistic and think of themselves first. In Chapter XVII, Machiavelli discusses whether it is better for leaders to be loved or feared. While indicating it is best for a leader to be both loved and feared he adds, "Anyone compelled to choose will find greater security in being feared than in being loved. . . ."
High vs Low Machiavellian Leadership
In a 2002 paper looking at influence tactics, University of Nebraska-Lincoln researchers Jennifer Moss Reimers and John E. Barbuto Jr. determined that Machiavellian leaders can be divided into low Machiavellian and high Machiavellian personalities. Individuals who have a higher Machiavellian disposition choose their influence tactics carefully by judging what is most likely to work for their followers. Low Machiavellian leaders are less likely to take into account the context and situation and will just use the tactics that work for them.