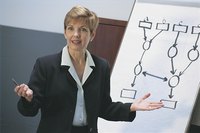 How to Analyze a Business Process. Every business has core processes that determine how well various functions are carried out. The mail room, research and production, manufacturing, quality control, sales and marketing; the list is endless of the number of business functions with processes that make or break their effectiveness. Learning to analyze business processes is the first step to fixing those that are broken.
Choose the right business process to analyze. Your business likely has numerous processes, large and small, that are vital to your business functioning as a cohesive unit. Pick one that seems important but not overwhelming. Tackle more complex processes as you perfect your analysis skills.
Map the relevant process steps. Follow the process from its initiation through the successful (or unsuccessful) completion of the relevant deliverables. Note how long each process takes, how many steps are required and what documentation is necessary to complete the each task. Pay particular attention to bottlenecks in the process that slow the process and create frustration for process workers.
Identify the key players. Make note of those employees that play key roles in the process and record their specific functions. Evaluate their strengths and weaknesses and note how they affect the overall process. Be prepared to eliminate or reassign personnel where they do not directly contribute to the successful completion of the process.
Record the important steps. Assess them for timeliness, efficiency and effectiveness. Identify redundant and unnecessary steps that can be eliminated or folded into other steps.
Create a business process map. Diagram each step and its relationship to the steps that precede and follow it. Make the map easy to follow and communicate it throughout the organization. Include all steps, players, equipment and materials that are intricately involved in the process.
Follow the map through a live business process and check how accurately it represents both the process itself and each step along the way.
Revise the process. Both immediately after testing the process for accuracy and on an on-going basis, alter the process to accommodate changes in personnel, products and services, and market conditions. Ensure that the process is dynamic and can accommodate change without adversely affecting efficiencies, productivity and personnel.