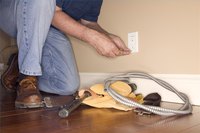 How to Start a Handyman Business. The truth is that, given a choice, most people would rather spend their time doing anything else rather than fixing little problems around the home. From fixing a leaky faucet to replacing an appliance plug, a handyman can be a great solution for those who are too busy to take care of the small repairs themselves. A handyman business can be extremely profitable, depending on your qualifications and experience.
Get licensed and insured. To start, you will need a business license, a contractor's license and a safety certificate that says you have the capability to work in plumbing and with electric outlets.
Learn how to use a computer, especially Excel spreadsheets. You will need a system to keep track of projects, expenses and billing. It's also a good idea to start a database of clients and tasks, so you can refer to it when you need references for new clients.
Find out what others in your area charge. You may set up a per-hour price or charge a minimum flat fee. House calls are usually more expensive than fixing something a customer brings to you. Weekend calls are even better paid.
Decide on a niche or at least create a list of things you will and will not do. If you take plumbing and electrical jobs but not carpentry tasks, make it clear on your advertisement.
Keep learning. Take books out of the library, attend workshops (many large building supply stores offer them for free) and contact manufacturing companies to learn more about their products.