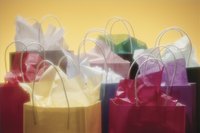 How to Use Goody Bags for Business Promotion. Goody bags and swag bags: the little treat you get after attending an event full of little presents. The goody bag can be an instrumental tool in promoting any growing product or business. Everyone loves free samples and are obviously more apt to try your product.
Define the star! Sometimes you receive a goody bag and there is too much going on inside. Meaning that the most lush product takes center stage, while everything else sort of falls to the wayside. Be sure when you put together the goody bag to help promote the business, that the business or product is the star. A lot of businesses make the mistake of partnering with several other vendors for different contents in the bag. This is only okay if the products are targeted at different markets. For example lipstick and eye-shadow are okay, but not lipstick and lip gloss. Otherwise your hard work and money might get overlooked. If possible brand your business name on every gift inside.
Put your name on the bag! This is imperative because you want people to see the bag and ask for it by name. For instance if Nike is sponsoring the event, people are most apt to say "Where did you get that Nike bag?" The more places you can place your businesses name, the better.
Sponsor an event or party. Have your promotion department work in conjunction with liquor, magazine companies or other name brands to help sponsor an event. Or, sponsor your very own. Find a venue, invite many clients, celebrities and the media.
Add contents. Now it's time to get to the nitty gritty. Choose the products around your "star" to place in the bag. Don't make it too heavy and make sure that nothing will get damaged.
Hand them out. Provide staff wearing appropriate attire for the event. If you can, have them wear t-shirts and hats with your businesses name on it. If you are not working a specific event, find a location that receives a lot of foot traffic. Malls and beach boardwalks are great ideas. Again have your staff dress in company attire. Be cheerful, friendly and polite and hand out your goody bags!