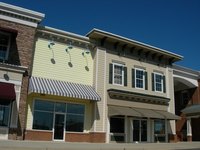 How to Select a Business Location. When starting a business, choosing your business location is one of the most important decisions you will make. A great location can lead to a booming business, while a poor location can derail even the best business plan. Don't select a business location without a plan to find the best possible site.
Figure out how much money you can afford to spend per month on your business location. Don't overestimate your resources. If anything, underestimate your monthly budget because you can always move to a better location, while a location that is too expensive can be a deathblow to a company.
Decide whether you want to lease or buy. If you have the financial backing and a business that has been around for a while, buying is usually the best option. If you have a newer business or don't have a huge amount of upfront capital, leasing is a great option to help get a business off the ground.
Select an area of town that best suites your needs. If you need walk in customers, select an area with a lot of vehicle and pedestrian traffic. If you don't need walk in customers, you can instead look at other factors such as proximity to where you live.
Drive around the area that you select. Look for signs indicating office space for sale or rent. Write down numbers and call to further inquire about the business location.
Contact a real estate agent who specializes in commercial real estate in your area, if you don't have any luck finding office space on your own. Specify to your real estate agent the price you want to spend, whether you want to lease or buy and the general geographical location that you've selected.