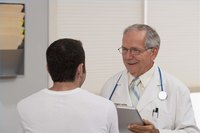 How to Recognize the Symptoms of Guillain-Barre Syndrome. The symptoms of Guillain-Barre Syndrome can come on with sudden and frightening speed. This rare autoimmune disorder causes muscle weakening and paralysis, sometimes progressing to the point at which a ventilator is temporarily needed to breathe. To recognize the symptoms, be alert for tingling and weakness that travels up the body from the legs to the arms.
Watch for early symptoms like tingling or rubbery sensations in your feet and legs. In many cases, Guillain-Barre Syndrome comes on rapidly, beginning in the lower part of the body and climbing to the arms and upper torso within hours. Tingling around the mouth is common as the symptoms ascend.
Note any difficulty with facial muscles or movement, such as trouble moving your eyes, slow speech and problems chewing or swallowing.
Assess both sides of your body. Guillain-Barre Syndrome affects both sides, unlike a stroke. Strokes generally paralyze only one side.
Test your reflexes. Guillain-Barre Syndrome diminishes the reflex response in the legs first. Some people also lose feeling in their extremities.
Check your heart rate and blood pressure. Both may drop with Guillain-Barre Syndrome.
Evaluate and report any changes in bladder or bowel function. Guillain-Barre Syndrome impacts the muscles that control bladder and intestinal function.
Monitor your breathing, and get help at once if breathing seems shallow. Guillain-Barre Syndrome can worsen very rapidly and spread to the muscles that control your breathing. Many people with the syndrome are temporarily placed on ventilators in order to breathe.
Review your recent medical history. Although scientists haven't discovered a single cause for Guillaine-Barre Syndrome, many cases are linked with recent bacterial or viral infections, vaccinations or surgeries. Infection with campylobacter, a bacteria found in undercooked food, especially poultry, may trigger Guillaine-Barre Syndrome.
Pay attention to unusual or severe lower back pain, which can signal Guillain-Barre Syndrome.