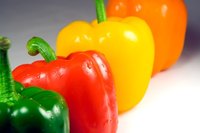 How to Spend Less on Groceries. Everyone wants to save money and everyone needs to eat. What if you could do both at the same time? Whether you are buying groceries for yourself, a couple of people or an entire family there are ways that you can spend less on your groceries. You just have to do a little up-front work. You'll be amazed at how much money you can save by putting a little effort into your grocery shopping experience.
At Home
Create a menu for the upcoming week. Plan what you are going to eat for every meal and include all the side dishes, salads, desserts and snacks.
Write down all of the ingredients that you are going to need to prepare your weekly menu. Be thorough.
Check your ingredients list against what you already have at home. You should have an ongoing list of the items that are in your pantry and freezer. An ongoing list it will make it easier to know what you already have versus what you need to buy; you won't end up having duplicates.
Write down all of the items that you need to complete your weekly menu.
Check weekly newspaper ads and flyers for coupons and other discounts on items that you had already planned on buying. Don't buy something just because there is a coupon--unless it is a pantry staple and you have the money and the space for the item.
Head to the store, but make sure that you have eaten something and that you aren't tired, depressed or stressed. If you are feeling at all vulnerable, you may purchase items that you don't really need.
At the Store
Use your pre-made list. Stick to your list and get out of the store as quickly as you can so that you aren't tempted by the in-store advertisements.
Pay attention to the aisle banners above each row. Only go down the rows where there are items that are on your list.
Become familiar with your local stores. If you know where things are, you can go straight to them and not wander around the store where you can see items that you may want but don't need.
Know when it makes sense to buy in bulk. Large "value sizes" aren't necessarily a good deal. Before buying the item make sure that you really do need it and that you've got the space to store it. Check the price per ounce or other measurement on the shelf label. Buying the value size isn't always the cheapest route to take.
Look at all of the brands available when buying an item. Don't be brand loyal. If the store brand is of good quality, buying it will generally save you money. Be sure to look at the top and bottom shelf displays. Manufacturers pay a lot of money to have their product placed at eye level. The best deal usually isn't the first one that you see.
Review your cart before you get into the checkout line. Make sure that your cart is full of grocery "needs" and not grocery "wants."
Watch the amounts on the register display as your items are being rung up. Make sure that you are getting the sale price or the "club card" price on items.