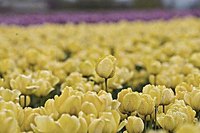 How to Make a Hat With Flowers. There are many kinds of hats with flowers, but one of the prettiest is the garden party hat. Many outdoor weddings feature this style of flowered hat worn by bridesmaids and sometimes the bride. A summer garden party is another opportunity to wear a showy hat with flowers. It isn't hard to turn a simple straw hat into a beautiful hat with flowers.
Purchase a big-brimmed, floppy straw hat. Choose either a straw-colored one or a pretty pastel straw hat.
Wrap sheer nylon netting around the hat or drape with a fancy scarf or satin ribbon to make an interesting hat band.
Pick large, realistic-looking silk flowers and hot glue or pin them on the hat band. Flowers that are especially showy include roses, hydrangeas, poppies, peonies and other large flowers. Tuck a little greenery in with the flowers.
Clip fancy jewelry to the scarf or band if desired.
Use more of the same netting to make a veil for added interest.
Incorporate feathers or lace among the flowers for additional charm.
Use one huge single flower or a cluster of flowers all around the band to make a stunning hat with flowers.