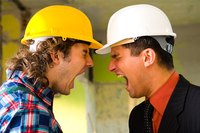 How to Handle Defensive Colleagues. According to the Mayo Clinic, conflict between coworkers is a primary reason why many people are unhappy on the job. While conflict in the workplace is inevitable, it can be resolved. Follow these steps to handle conflict with a defensive coworker.
Take a step back. Before you try to confront a defensive coworker, take a time out for yourself. Count to ten, walk around the block or practice chair yoga to de-stress and clear your mind. This will help you calmly respond rather than react in frustration.
Walk in her shoes. Imagine the situation from your coworker's point of view. There may be more going on than you're aware. Often personal and professional lives collide, wreaking havoc on relationships. Attempt to be sympathetic without compromising accountability.
Put your best foot forward. Regardless of what your coworker says or does, you have a responsibility to be professional and mature. Consider the role you play in the disagreement and take responsibility for any wrongdoing.