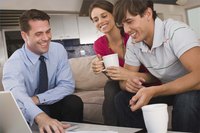 How to Prepare for a Meeting with a Financial Adviser. A good financial advisor can plot your future, helping you to choose investments, savings instruments and retirement funds. Follow these steps to choose an advisor who will fit your needs and temperament.
Research individual financial advisers or firms that you may be interested in speaking with. Ask for referrals from co-workers, friends or family.
Interview two or three advisers before selecting the one with which you wish to work. Ask questions about credentials, references, fees and services. Many advisers are paid commissions on referrals for other services such as insurance and investments.
Select an adviser who best suits your personality and supports your long-term goals.
Write a list of long-term goals that includes your ideas for your future. A couple of examples might include: What age would you like to retire? Will your children attend college; how many children and how many years?
Bring a list of assets to the meeting. Your adviser needs to know what you have in order to plan for getting you where you want to be.
List your debts. An adviser also needs to be aware of outstanding loans and balances as well as the interest rates and terms. The adviser will perform a complete analysis on your financial situation.
Include any life insurance information. This will assist the adviser in retirement planning, but he may also suggest you change or increase your policy coverage.
Bring bank statements from the past two to three months to the meeting. This will clue the adviser in on how you spend your money and the best options for growing or protecting that money.